Journey to Japan: PRIDE Travel Embarks on Invitation-Only 6 Day Kanto Tour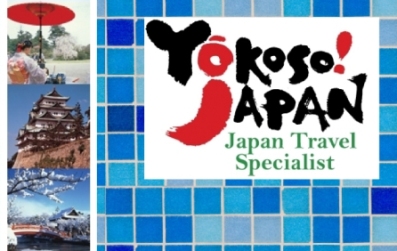 This labor day week, PRIDE Travel's owners Marc R Kassouf CEO and S Nathan DePetris COO, are scheduled to depart on an invitation-only journey to Japan. The company received an invitation from the Japan National Tourist Organization (JNTO) to participate in a 6 Day tour of the Kanto region around Tokyo offered by the number one US tour operator to Japan, Supernet Tour's all inclusive escorted company, Super Value Tours. As a Yokoso Japan certified agency, PRIDE Travel is one of only a handful of agencies recognized by the JNTO as ambassadors of Japan's cultural, leisure, and travel offerings. The tour will embark from Los Angeles International Airport to Tokyo's famed Narita via Singapore Airlines non-stop service. Sightseeing and cultural stops include Tokyo Bay, spectacular Kamakura with its rich heritage, Hakone National Park at the foot of Mount Fuji, tours of Tokyo, nearby Odawara Castle, the Imperial Palace, and bustling nightlife of Shinjuku. Highlights will include authentic meals featuring various styles of traditional cuisine, a one-night ocean view stay at an Onsen hot springs bath hotel in Atami, visits to the famous Daibatsu Buddha statue, and a bridge-tunnel ride under and over Tokyo Bay. Daily blog postings will be added to PRIDE Travel's blog at blog.pridetravelonline.com with corresponding photos placed on the company's Facebook page.
"Such an opportunity does not come often," said Mr. DePetris, "and we are grateful to have the chance to once-again visit Japan to learn, experience, and appreciate the amazing options for our clients while also having a great experience ourselves" PRIDE Travel has a history of participation in educational tours and journeys to enhance the skills of its owners and agents; this June, both owners Mr. DePetris and Mr. Kassouf returned from exploring Canada's Rocky Mountaineer train vacation through the Rocky and Cascade mountains, crossing two provinces, 3 national parks, and half a dozen historic and iconic Fairmont hotel properties spanning the train route traveled by kings and queens throughout the last century. Mr. Kassouf added
"Although we typically plan such adventures in advance, this opportunity was presented only a few weeks prior to departure; we had to shift around some personal trips but believe the investment and exposure will be well worthwhile and beneficial to our clients. We look forward to forming several group journeys with Super Value Tours and the Japan National Tourist Organization upon our return to further share the spectacularly varied destination that is Japan…"
Plans are being outlined for Hetero Friendly™ groups and individual travels on the 6 Day Kanto tour, which is a flexible product allowing extended stays before or after the core trip, as well as stop-offs to other Asian destinations.
###
ABOUT PRIDE TRAVEL®
Pride Travel of Long Beach, California is a full service agency specializing in cruise, tour package, villa, and condo rentals. We also offer our community the full breadth of travel products and expertise. While we cater to the needs of Gays and Lesbians in the LGBTQ community, we are 'hetero friendly'™ and frequently book individuals, couples, and families with children on trips and vacations worldwide. Pride Travel is an award-winning agency that has been recognized for our active participation and contributions to our local and LGBTQ communities. We also hold numerous travel industry certifications and accreditation, as well as official certification by destination and country visitors' bureaus; we are active members and certified by the Travel Institute, the Cruise Line Industry Association, and the International Gay and Lesbian Travel Association. Original travel articles and content is contributed regularly and distributed at our blog, http://blog.pridetravelonline.com .
PRIDE Travel's media page can be located at http://www.expertclick.com/19-3675 . For more details about our credentials, please visit our website at www.pridetravelonline.com and click on About Us or contact Mr. Marc R. Kassouf, Owner & CEO, at 562.432.3888 or via email at media2@pridetravelonline.com. Pride Travel, Mr. Kassouf and Mr. S. Nathan DePetris, Owner & COO, welcome your inquiries regarding interviews, speaking engagements, and other media collaboration.
For more details about our credentials, please visit our website at www.pridetravelonline.com and click on About Us or call at 562.432.3888.
###
ABOUT SUPERNET AND SUPER VALUE TOURS
Supernet tours possesses over a decade of experience sending thousands of American Asian tourists to Asia annually through its brand Signet Tours. The company recently launched Super Value Tours as a separate division to meet the needs of English speaking North American tourists to Asia, offering all-inclusive escorted deluxe tours. Reputed as providing authentic gourmet meals, featured luxurious accommodations and well-trained company-employed tour guides, Supernet Tours has been credited by American Asian communities as the Number One operator offering high quality Japan tours. The company spends at least six months on each product/itinerary, studying customer's needs, selecting major attractions, food and accommodations, and on site testing, to make sure that what is included in the itineraries will be the cream of the crop . Super Value Tours is fully aware of cultural and behavioral differences of the two market segmentation and is ready to offer its products and services to meet or exceed the needs of English-speaking customers