PRIDE Travel Receives 2009 Gold Davey Award From International Academy of Visual Arts for Amazing Thailand Commercial
In announcing the winners of the 2009 Davey Awards, the International Academy of Visual Arts recognized PRIDE Travel with its highest award, a Gold Davey, for the independent in-house production of the "Amazing Thailand" commercial promoting Thailand as a travel destination. The commercial was produced in-house by PRIDE Travel's owner and CEO Marc R. Kassouf using only a standard office PC, readily available home and office video editing software Roxio, and old fashioned trial and error until the final finished product was attained. The original footage was provided by the Tourism Authority of Thailand, and although informative was not intended as an audiovisual whole or to be used as a commercial. Mr. Kassouf initiated the project in order to promote the destination with a short commercial video at trade shows and events, and add it to other similar destination videos. "I am ecstatic that PRIDE Travel has won a Davey Award for the Amazing Thailand commercial" said Kassouf, adding that "to win a Davey is a great honor, a Gold Davey even more gratifying as recognition for all the work done and many hours spent on the production" The Amazing Thailand commercial is available for online viewing on YouTube directly via the following URL : http://www.youtube.com/watch?v=Ep0NG8Q2i9k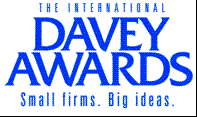 With over 4,000 entries from across the US and around the world, the Davey Awards honor the finest creative work from the best small firms, agencies and companies worldwide. The Davey Awards are judged and overseen by the International Academy of the Visual Arts (IAVA), a 200+ member organization of leading professionals from various disciplines of the visual arts dedicated to embracing progress and the evolving nature of traditional and interactive media. Current IAVA membership represents a "Who's Who" of acclaimed media, advertising, and marketing firms including: Sotheby's Institute of Art, Yahoo!, Estee Lauder, Wired, Insight Interactive, The Webby Awards, Bath & Body Works, Brandweek, Polo Ralph Lauren, ADWEEK, Alloy, Coach, iNDELIBLE, MTV, Victoria's Secret, HBO, The Ellen Degeneres Show, Myspace.com, and many others. Entries are judged to evaluate distinction in creative work. In determining Gold and Silver winners, entries are judged on their merits based on a standard of excellence as determined by the IAVA, considering the category entered. A category may have multiple Gold and Silver Winners, or may have none. Entries are scored on a ten point scale by the judges. Generally, Gold Winners receive a score of 9.0 or above and Silver Winners receive a score of 7.0 to 8.9. No more than 10% of entries can potentially be awarded a Gold Davey.
"We were once again excited to honor and recognize the amazing work submitted into this year's Davey Awards and are humbled by the exceptional work we have grown accustomed to seeing year after year. This year's competition saw an increasing diversified pool of entries and the high quality of work continues to push the limits of creative possibilities throughout the industry," noted Linda Day, Executive Director of the IAVA. She added "Even in these tough economic times, we continue to see top notch, high quality work being submitted, which is a true testament to the dedication and capabilities of our entrants. On behalf of the entire Academy, congratulations to our winners and thank you to all of this year's entrants for your contributions and commitment to the advancement of the Visual Arts."
David defeated the mighty Goliath with a big idea and a little rock. That is the sort of thing small firms and in-house agencies do every day. The Davey Award honors the achievement of the "Creative Davids" where strength comes from ideas, intelligence and out-of-the-box thinking, not a "Giant's" bankroll. Great work is about fresh ideas and exceptional execution, not the biggest budgets. The Davey levels the playing field so entrants compete with only their peers and can win the recognition they deserve.
###
PRIDE Travel of Long Beach, California is a full service agency specializing in cruise, tour package, villa, and condo rentals. We also offer our community the full breadth of travel products and expertise. While we cater to the needs of Gays and Lesbians in the LGBTQ community, we are 'hetero friendly'™ and frequently book individuals, couples, and families with children on trips and vacations worldwide. Pride Travel is an award-winning agency that has been recognized for our active participation and contributions to our local and LGBTQ communities. We also hold numerous travel industry certifications and accreditations, as well as official certification by destination and country visitors' bureaus; we are active members and certified by the Travel Institute, the Cruise Line Industry Association, and the International Gay and Lesbian Travel Association. Original travel articles and content is contributed regularly and distributed at our blog, http://blog.pridetravelonline.com.
PRIDE Travel's media page can be located at http://www.expertclick.com/19-3675. For more details about our credentials, please visit our website at www.pridetravelonline.com and click on About Us or contact Mr. Marc R. Kassouf, Owner & CEO, at 562.432.3888 or via email at media2@pridetravelonline.com. PRIDE Travel, Mr. Kassouf and Mr. S. Nathan DePetris, Owner & COO, welcome your inquiries regarding interviews, speaking engagements, and other media collaboration.